5 star rating
4.9
59 Reviews
I wanted to get rid
Review by Terry C. on 30 Sep 2019
I wanted to get rid of the fender gap and these TruHart shocks and struts paired with the Eibach lowering springs did that and more. The ride and look are superb! A big thank you to David for never steering me wrong and always providing great support!
Nice !
Review by Ali on 24 Sep 2019
Bought them without the springs for my 2016 Optima SX and the ride feels like a sporty car from factory, i'm having GodSpeed lowering springs along with them which only drops 1.1". I really like them feels like a new ride now
Have these installed with the
Review by Bruce C. on 6 Aug 2019
Have these installed with the Megan lowering springs and a rear sway bar with front strut tower brace. Car rides very smoothly over bumps, and also is much flatter through corners. All-in-all a very nice compromise between performance and comfort.
Looks perfect!
Review by Muddasir on 27 Jul 2019
Got these installed yesterday on my 2015 2.0T Sonata. Looks amazing. At first the rear cambers were pretty negative. But after a wheel alignment, which i highly recommend whenever you lower your car, it looks even more cleaner. Ride feels great. I have the magnaflow catback exhaust installed as well. I scraped my exhaust a little bit on a speed bump since it hangs a bit lower than the oem exhaust. But with the right approach angle, it's fine. I may get wheel spacers and roll my fenders. I'd post a picture but I'm not sure where the option is to do that.
Ride quality is about the
Review by Nate O. on 20 Jun 2019
Ride quality is about the same as stock. Eliminated all wheel gap. Definately happy!
I'm in Cali. I emailed
Review by Ronald H. on 30 Apr 2019
I'm in Cali. I emailed a question and within 30 min or less. I got a honest response. So I ordered my parts on Thursday based on the wick response, and I got it Friday. Amazing service. Thank you
If you like a stif
Review by Randy Z. on 8 Feb 2019
If you like a stif ride, get something else. I bought the shocks and springs combo. The ride is firm but not race car like. Bounce just a bit at lower speed, once you are at over 50 MPH the ride is very confortable. A bit of advice if you have OEM wheels, your car will be almost slammed to the floor... I have 245-40-18 and no rub with four average adults in it. In Puerto Rico, where speed bumps abound and we have so many road ditch that my car undercarriage scrape almost everywhere. One thing that I dislike is that after a week, the ride is not so firm as it used to be and the car got lower (!). But now it does look so sexy and agresive. I think the OEM wheels are too skinny for the look but, I'll keep it for the time being. On and on, one of the best upgrades ever and at the price, it is a bargain!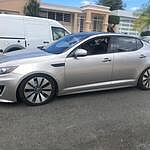 Installation was easy, the lowering
Review by Anthony F. on 11 Jan 2019
Installation was easy, the lowering springs are the exact look I was looking for , the ride is a little stiff at first but after they settle , handles great highly recommend,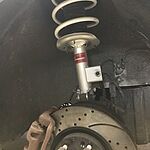 Excellent quality. Was driving around
Review by Michael F. on 19 Sep 2018
Excellent quality. Was driving around on Eibach Pro Kit Springs with OEM shocks and struts and the ride was definitely rough as the OEM shocks/struts would bottom out and were not designed for the mild drop. After installing the TruHart Sport Shocks/Struts Kit with Eibach Pro Kit springs my 2013 Hyundai Sonata is totally transformed with how it drives! The ride is much better now, definitely sporty but not rough. Hitting road imperfections everything feels solid and in control. An absolute recommend if you are riding on lowered springs! Do not cheap out and think your OEM shocks/struts are designed to work properly with any lowered springs. These are worth every dollar!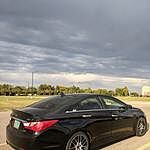 The TRUhart suspension system with
Review by Mark B. on 21 Aug 2018
The TRUhart suspension system with the springs is a great deal and a very nice ride. I truly love my new stance being lowered the look is great. Always have a great experience when I deal with K5 been buying since 2014 many parts all too quality.
Q: Do I need lowering springs for this set up or can I just use the original springs?
A: Hi Kevin,

These are only compatible for use on vehicle with aftermarket lowering springs. These cannot be used with OEM springs.

Thanks,

K5 Optima Store