4.9 star rating
4.9
144 Reviews
Great spacer though completely dislike
Review by Dustin J. on 6 Nov 2019
Great spacer though completely dislike the added boost holes. After screwing in the caps back of caps extend past inner wall of spacer. That being said I am still quite pleased for the most part. Thanks David 👍👍 K5.
Works great
Review by Jose S. on 28 Oct 2019
Works great
Excellent part, instantly brings life
Review by Jack M. on 8 Oct 2019
Excellent part, instantly brings life to the 2.4 with better throttle response and at least seems like more power. I don't have to use sport mode anywhere near as much. Vehicle is a 2020 sportage
Great I recommend this product.
Review by James J. on 7 Oct 2019
Great
I recommend this product.
Extremely easy to install on
Review by Chris C. on 26 Sep 2019
Extremely easy to install on my 2014 Kia Optima and a noticeable gain
Cristian J.
4 star rating
Install is kinda difficult on
Review by Cristian J. on 11 Sep 2019
Install is kinda difficult on the 2.0t sonata/óptima platform because of all the hoses in the way and the bolts are allen head. Different head bolts would make the install way faster but the product works well as expected and I can now install my meth kit.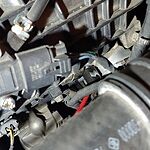 2015 Optima SXL turbo Definitely
Review by Justen C. on 5 Sep 2019
2015
Optima SXL turbo
Definitely felt a difference in low end. My BIGGEST gripe about this though is when you put the spacer on it's damn near impossible to get the bottom right bolt on... overall great product.
Also the nitrous screws..... there's no need for both or atleast make them so they're snug.... you can not access the back right one and idk anyone using nitrous in a Kia but i could be wrong ..:
Also Dave was awesome
Easy to install. Made a
Review by Aaron K. on 24 Jul 2019
Easy to install. Made a little difference in the torque of the first two years taking off . Even in EVO Mode.
Sounds great
Review by Niloyz7 on 20 Jun 2019
It will give a roaring sound with HPS intake
Marshawn B.
5 star rating
Fast shipping
Review by Marshawn B. on 14 Jun 2019
Fast shipping
Q: I was looking at getting one of these along with an Injen cold air intake. The only thing is, I will not be tuning my vehicle as I do not want to void my warranty. Is it okay to go with the intake and see noticeable gains without the tune? I don't want there to be too much air intake and have it cause problems without a tune. I have a 2015 Kia Optima SX Turbo.
A: Hi Jeremy,
Thank you for reaching out to us here.
1st thing, nothing you do as far as modding your car will automatically void your warranty, as that is not how the warranty works. You can read much more on how the warranty works on our site here:
Factory Warranty, and how my car can be affected
However, with that being said, yes, you can order the intake by itself and see the gains, without doing any tuning to the vehicle at all.
Thanks,
K5 Optima Store
Q: What advantages does the new design have over the previous design? The new one doesn't look to have the option for thermal gaskets which reduce the the heat transfer, why not?
A: Hi Ryan,
I went ahead and created a little comparison for you or other customers to see the differences.
Have a look here:
i.imgur.com/MNUdUbm.jpg
Thanks,
K5 Optima Store
Q: does this hole on spacer work with AEM and snow performance water methanol injection kit's nozzle ?
A: Hello there,

Yes it sure does. We also sell this system as well, just have not listed it on the site yet.

Thanks,

K5 Optima Store
Q: How does it not void factory warranty? I already understand the Magnuson-Moss Act.
A: Hi Ryan,

With all due respect sir, you must not have fully understood what you read then. The Magnuson Moss Act states that your warranty cannot be voided unless the vehicle manufacturer can prove that the modification you did to the vehicle was the direct result of the break down of whatever part you installed.

Obviously installing a throttle body spacer will not cause the breakdown of anything on your vehicle, therefore impossible to void the factory warranty.

Thanks,

K5 Optima Store
Q: This does not fit 2015 kia optima 2.4?
A: Hello Bradley,

Yes this does in fact fit the 2011-2015 Kia Optima & 2011-2014 Hyundai Sonata 2.4L NA motors.

Thanks,

K5 Optima Store